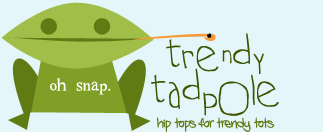 Anyone who knows my style know that I love to dress my little girl all girly and cute one day and then more edgy and modern the next.
I found a great kids clothing company that accommodated my wishes.
Trendy Tadpole
has three categories of clothing, Trendy, Hip and Witty. Here are a few examples of each of the categories.
We were lucky enough to receive this cute shirt, Cherry Blossom to do as a review. I think the
clothing is very well made, but does seem to run on the small side. Haylee wears
24mo right
now and the 18-24 mo was a little tight on her. Wearable, but not for long.
Also, it did shrink a bit when washed but she will still be able to wear it for a bit.
Just keep that all in mind when choosing a size for you tot!
If you are looking for some cute clothing to dress your little one in, head on over to
Trendy Tadpole
and see what they have for you!